Over the past several years ECC has been going through a deep change in the polity (government) of our church. We have moved from a Board of Stewards model of leadership to the structure that is found in scripture. We have re-written the bylaws of our church to institute the offices of Elder and Deacon. These two offices are clearly established in the New Testament as the offices of church leadership.
The Elders of the church are men who serve the church as spiritual leaders. Instead of having one pastor, we now have four elders, who have the same responsibilities and commitment to the body of ECC. They are called to lead, feed, care for and protect the congregation of ECC. The men nominated and affirmed by vote on June 2, 2019 are  Lew Combs, Jon Lowery, Scott Sheridan, and Bryan Holt. We were ordained by the congregation as elders on September 8, 2019. Within the new by-laws, I am still the paid pastor who is equal in calling and function to the other elders, but I have been tasked with responsibilities and roles that compensation frees me to accomplish. My primary role is the main preaching for the Sunday worship service, along with other duties that take time and preparation.
The deacons of the church are men and women called to care for the practical needs of the church. Their duties are varied, from caring for the building and grounds to overseeing benevolence. These leaders were ordained as deacons on September 8, 2019. The deacons of ECC are: Page Allen, Arlene Booker, Phil Sparks, Bart Haddix, George Holt, Jason Habel, and Tom Verbeke. Aside from any duties relating to the day to day functioning of the church, they have also been assigned several families each to reach out to on an ongoing basis to pray for and see if there are any practical needs that those families have.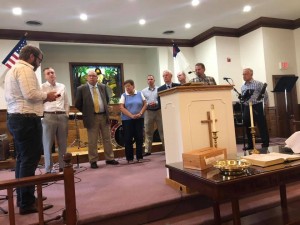 This is an exciting time for our body as we are already beginning to benefit from the leadership and care of these leaders. However, the process to implement this new change is one that we are taking our time with. There are many aspects of the church that will be affected by this change, so we are taking our time and addressing things at a measured pace. We have been looking at ways to redistribute the leadership of various ministry teams in the church. We have tackled our education team and have already seen a number of people step up to help serve in the areas of children and women's ministries.
There is much more on the horizon, and we are taking the long view as we approach changes and new ideas. Along this whole process, we have seen the hand of God drawing us towards this change as well as supplying qualified men and women to fill the roles of leadership in this body. Soli Deo Gloria!
Bryan